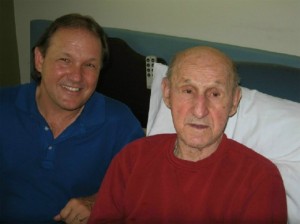 Dear Herm's Hikers,
I am sad to report that Herm passed away on Tuesday November 17. Below is a copy of the obituary column to be published in the Sunday Baltimore Sun.
My father was a humble and sincere man with an easy smile and a wonderful self-effacing sense of humor. His vocation in life was service and sacrifice to his faith, family and country through character, commitment and compassion. It is said that a person is judged by the company they keep, and my father kept some great company. His heroes and role models were St. Frances of Asissi, General Douglas MacArthur, John F. Kennedy, and Pope John Paul II. Little did my father know that not only would he follow in their footsteps, but one day he would step beyond their shadows and reach out and touch the hearts of those around him. My father certainly made his little corner of the world a better place to live and love. In dying, he taught us how to live; in living, he taught us how to love. What a wonderful legacy! Old soldiers never die; they just fade away.
Once again, I thank you for your donations to the hike and your prayers for myself and my family. Without your support, Herm's Hike would not have been possible. As always, hike with your angels and hike in peace. In lieu of flowers, the family requests donations to Herm's Hike. Godspeed on life's journey!
Paul Travers AKA Son-Dance
———————————————————————
Herman J. Travers, Pearl Harbor Survivor, Decorated WWII Combat Veteran, Retired Postal Employee
Herman J. Travers, died Tuesday, November 17th, at the Genesis Loch Raven Center after a courageous four year battle against Alzheimer's disease. He was 89. His life personified and exemplified the unsung heroes that were hailed as the Greatest Generation by noted newsman and author Tom Brokaw. He was by all accounts a "soldier's soldier."
Mr. Travers was born in Baltimore and raised in Canton. After graduating from Sacred Heart parochial school in 1935, he attended Patterson High School for one year before leaving to support his family with jobs at the waterfront packing houses in the Fells Point/Canton area. During this time, he became an aspiring welterweight boxer under the tutelage of local boxing legend and trainer Lee Halfpenny at the YMCA. Seeking adventure and a chance to see the world, he enlisted in the US Army as an infantryman and shipped out for Oahu, Hawaii, in January 1941 after being selected as the outstanding recruit at boot camp. On December 7, 1941, he witnessed the Japanese attack at Pearl Harbor while assigned to the 27th Infantry Regiment. His vivid description of Japanese dive bombers strafing the parade deck at Schofield Barracks was recounted in the book "Eyewitness to Infamy: An Oral History of Pearl Harbor." After the attack, he was assigned patrol duty along the beaches of Waikiki.
Following support duty at Guadalcanal, he attended Officers Candidate School at Fort Benning, Georgia, where he was commissioned a 2nd Lieutenant in December 1942. He returned to the Pacific Campaign in 1944 as a member of the 323rd Regimental Combat Team, 81st Infantry Division. In October 1944, during the Battle of Peleliu, he received two Bronze Stars for Heroism in Combat. On October 17, he led a volunteer team of four men and successfully rescued a wounded soldier from the battlefield during deadly mortar fire that killed one member of his team and wounded another. On October 30, while on patrol near Bloody Nose Ridge, he successfully directed a counterattack after his patrol was ambushed by enemy machinegun fire. Severely wounded during the fight, he was evacuated stateside where he spend three years in Army hospitals undergoing reconstructive surgery on his foot. He was discharged from the Army with the rank of 1st Lieutenant at the Valley Forge Army Hospital in 1947.
On June 30, 1945, he married his wartime sweetheart, Frances M. Janiszewski, at St. Stanislaus Church in Fells Point. While on leave in 1942, he was introduced to his future bride by his childhood friend at a neighborhood social club. Unable to secure employment as a park policeman or state trooper due to his physical disability, he worked briefly at Bethlehem Steel Sparrows Point before accepting a position with the United State Post Office. He worked as a postal clerk at the Clifton and Hamilton stations before retiring in 1985. He settled with his family in the Gardenville area where he managed youth baseball teams, to include Morton's Pharmacy. His love of the outdoors inspired Herm's Hike, an Appalachian Trail thru-hike in 2009 to raise money for the Alzheimer's Association.
Mr. Travers was a communicant at St. Anthony of Padua Church and a member of the Pearl Harbor Survivors Association, the VFW, and the Purple Heart Society. His hobbies included reading, golf, chess, and his grandchildren.
In addition to his wife, Mr. Travers is survived by a daughter Regina S. Schuch of Jarrettsville, MD, two sons: Paul J. Travers of Parkton, Maryland and Mark Travers of Manassas, Virginia, fours sister and one brother, seven grandchildren, and a great granddaughter.
The family will receive friends from 3 to 5 and 7 to 9 p.m. on Sunday at the Schimunek Funeral Home, 9705 Belair Road. A mass of Christian burial will be celebrated on Monday 10.a.m. at the St. Anthony of Padua Church. Internment will follow at the Gardens of Faith. In lieu of flowers, the family requests memorial contributions to the Alzheimer's Association, c/o Herm's Hike, P.O. Box 2940, Chicago, IL 60690. To donate online, go to www.paultravers.com and click on "Donations."
———————————————————————