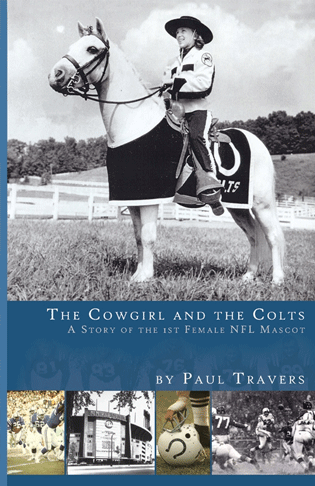 Publisher:

Helm Publishing

Available in:

Paperback, E-Book (PDF)

ISBN:

0979232872

Published:

September 1, 2007
Buy on Amazon
The Cowgirl and The Colts: A Story of the 1st Female NFL Mascot
In 1959 Carolyn Clark and her pony Dixie rode into the pages of football history as the first female mascot in professional football. Carolyn was an accomplished horsewoman by the age of ten and daughter of the legendary jockey Willie Clark. She dreamed of starting a riding academy for handicapped children. Her fame as a Baltimore Colt created a touching story of faith, family, friendship and football. This is her story – a look at life in the 1950's, professional football, horses, and rock and roll as seen through the eyes of a young cowgirl.
The Baltimore Colts were a complete team: that was not just the players but the fans. What would that team have been without Carolyn and Dixie? They were a special part of that team, the magical and fragile bond between players and fans.
Raymond Berry — Baltimore Colts 1955 to 1967
Pro Football Hall of Fame 1973
Carolyn Clark and her Welsh pony, Dixie, created sports history as the first female mascot in a professional football league. Saddle-up for a ride into the Fabulous Fifties as Carolyn becomes the "new cowgirl of the Old West" with the world champion Baltimore Colts. Hear the cheers and jeers as Carolyn and Dixie face the challenges of new careers on and off the field. Meet a fascinating cast of heroes, healers, and horses who bring a forgotten history to life!
I remember it as if it was yesterday, the crowd cheering wildly as Carolyn rode her pony Dixie around the stadium to celebrate a Baltimore Colts touchdown. Carolyn had the unique ability to realize her dreams and touch the lives of others at such a young age. In my eyes, she will always be a Baltimore legend.
William Donald Schaefer — Governor of Maryland 1987 to 1995
Mayor of Baltimore 1971 to 1981